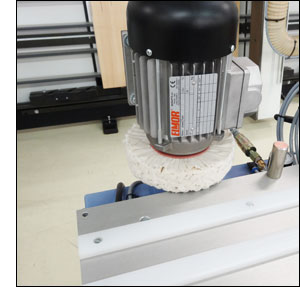 This machine is capable of trimming the vertical corner profile of workpieces edged with material up to 3mm thick.
The clamping of the workpiece and the movement to the shaping motor is fully automatic via a single foot switch.
The full lateral and vertical movement of the shaping motors allows all shapes to be machined quickly and easily.
Full micro adjustment of the positioning stops give an accurate and consistent trim.
The machine is also equipped with a buffing unit to finish and polish the trimmed edge.
| | |
| --- | --- |
| EBM EF103 | Details |
| Max. thickness of edging | 3mm |
| Min & Max. thickness of workpiece | 45mm |
| Spindle speed | 27,000rpm |
| Power output | 500w |
| Power supply | 240v |