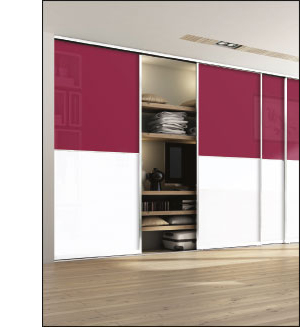 Introduction
Welcome to EasiGlide, our wide range of made to order sliding doors and accessories.
The range consists of twenty nine panel decor options, two frame finishes, five frames colours and eight door configurations. EasiGlide is made-to-measure to suit your requirements. An essential selection of matching accessories, including plinths, end panels and plant on cabinet doors and drawer fronts complete the range.
Ordering Information
When ordering EasiGlide, simply provide us with the following information:
The height and width of the aperture.
The number of doors you require.
The finish of the door frames you have chosen.
The configuration of each door.
The panel decors for each door.
Any optional extras required.
To enable us to process orders accurately and efficiently, all orders must be placed in writing by fax or email. We cannot accept verbal orders.
Upon receipt of an order we will send you an order acknowledgement detailing the complete order and a despatch date. Despatch dates are dependant on proforma orders being paid. Please check the order acknowledgement carefully and contact us immediately if there any corrections required. Once the order is placed into production, changes cannot be made.
| | | |
| --- | --- | --- |
| Mirror | TopX Finish | |
| Mirror is 4mm and safety backed | All our acrylic colours are supplied with a hard wearing TopX finish. A TopX panel is covered with a protective film which must stay on during processing and installation. After removal, the surface is ready for daily use. No additional polishing is necessary. As with any acrylic, the use of abrasive cleaning and scouring agents can cause damage and should be avoided. | The surface of TopX is the highest grade of acrylic and is resistant to many chemicals. However, if in doubt, check on a sample surface first. The benefits of TopX surface finish include; greatly improved scratch resistance, no polishing necessary after the removal of the protective film, increased UV stability and higher chemical resistance. |
Door Style
Sloping Doors
EasiGlide sloping doors are available in a wide variety of angles. When ordering angled doors, please provide us with as much detail as possible, this includes, the full height and width of the aperture along with the right or left angle heights and widths. A line drawing giving an indication of the final door will be sent to you for your approval. This drawing must be checked for accuracy then signed and returned prior to production. Sloping doors are priced as normal doors plus a 50% surcharge. To stabilise a sloping door, an internal shelf, double the width of the door, must be installed. This enables the rail to be fitted to the shelf and the guide to the back of the door. This is the only way for a sloping door system to operate. Please click on the link below to view photos and technical illustrations of the sloping doors system.