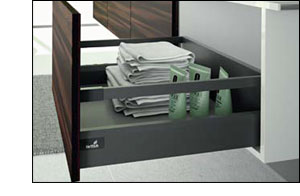 NEY are now the official distributor for all Hettich pre-assembled drawer boxes covering mainland UK and Northern Ireland.
ArciTech drawers are available an Anthracite finish and with optional design and topside choices for pan drawers, you have numerous options for the overall look of your drawer box.
The pre-assembled drawer is available in standard widths with a matching metal back and base. Manufactured in Germany and FIRA tested, the quality speaks for itself and will meet all expectations.