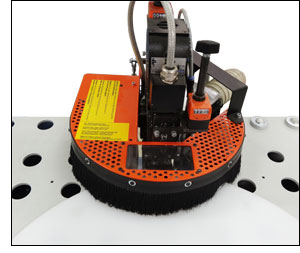 A machine for the trimming of straight or profiled workpieces edged with material up to 3 mm thick. A great partner for the EBM KDP111F and 111FL shaped edgebanders. The FRF130 comes equipped with two 0.5HP high frequency motors running at 12000rpm which are powered by a static invertor. Each motor is equipped with a milling block with 4 reversible 3mm radius TCT tips (other sizes on request).
Each motor has individually adjustable tracing wheels for trim adjustment and fully adjustable side tracing wheel to ensure a constant profile along the trimmed edge.
The top and bottom motors have pneumatic vertical movement, operated by a footpedal, to enable a panel to be introduced into the machine without damaging the edging material.
In-built dust extraction assists with the cleanliness of the machine and the surface of the panel and helps ensure the quality of the trim. The machine is mounted on wheels for use in smaller workplaces.
| | |
| --- | --- |
| EBM FRF 130 | Details |
| Max. thickness of edging | 3mm |
| Min & Max. thickness of workpiece | 15-45mm |
| Motor speed | 12,000rpm |
| Power requirements | 415v (3PH) |
| Weight | 150Kgs |

Optional End Trim Saw Unit


For the flush trimming of the excess edging material from the end of panels edged with material up to 3mm thick. The panel is placed vertically at the side of the machine, the foot pedal is pressed, the board is clamped in position and the saw travels horizontally to remove the excess material. There is full lateral adjustment of the panel and vertical adjustment of the saw to facilitate an accurate and consistent trim