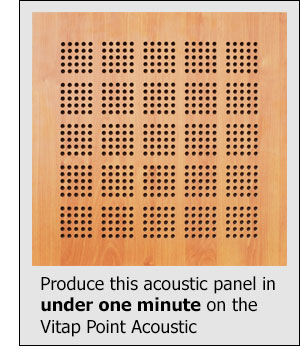 The Point range of machines from Vitap comes in 3 versions and is a small footprint CNC Point To Point boring machine setting new standards in both price and performance.
The Point 2 and K2 are designed as ideal stand alone machines for both standard and special parts and are capable of face drilling, horizontal drilling, and grooving with routing as an option. This allows the complete processing of cabinet sides, tops and bottoms, stretcher rails, cabinet doors drawer fronts and kitchen corners.
The Point Acoustic, whilst the basic format of machine concept is the same, is designed specifically for Acoustic and Sound Absorbing Panels. With a multi-head design the machine is capable of drilling 54 holes every 4 seconds in a through feed cycle.
The software supplied with all 3 versions comes complete with optimiser and is able to accept directly DXF input.