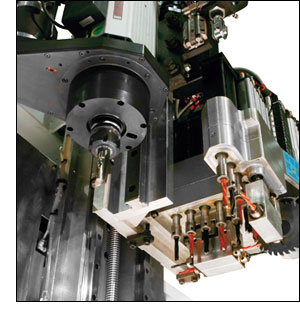 The Conquest range of machines has been designed to suit the medium to large size manufacturer.
Available in 3 bed sizes, with face drilling, horizontal drilling, automatic tool change and 10kw router spindle all as standard. The bridge type construction makes for solid stable machine which is capable of machining MDF, MFC, Corian, Acrylics and Plastics as well as other materials commonly used.
The machine can be supplied in nesting cell format, which would include automatic loading and automatic unloading. The machine is ideally suited to large production of kitchens and cabinet doors whilst is flexible enough to cope with most other production types.
The software included comes complete with the Aspan Nesting option to enable easy nesting of components when required. A tool length pre-setter comes as standard for ease of tool setting..