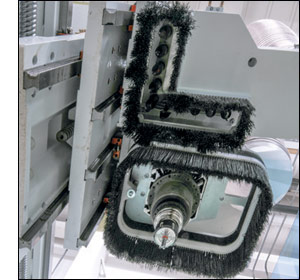 LOHMEYER TEAM UP WITH NEY TO OFFER MORE CNC OPTIONSFOR SMART WOODWORKING
NEY know a little bit about being competitive, having served the Woodworking Industry successfully for more than 35years. The secret is to increase productivity by being more efficient and working smarter, whilst keeping a good eye on costs.
Anyone considering taking a step forward into CNC manufacturing would be well advised to visit NEY to see how they can transform their business and increase profits.
Lohmeyer offer an entry level flat table machine in 8 x 4 format, all the way through to the Baz 895 nesting Line with auto load and unload with label printing.
Specifications include either lateral or rotary tool changer, C Axis, Aggregates, Tool Probe, Drill Block, ISO or HSK Spindle with 2 vacuum pumps being standard on all machines. Also included is automatic gated dust extraction system and automatic lubrication system.
Pod and Rail machines are also available with C Axis and integrated chip conveyor as standard features as well as "Indexable" vacuum cups. Options include various reference stop options, LED rail positioning system and hold down device for narrow pieces..
Control Systems are either Osai or Syntec, depending on the model, the spindle motor is HSD, drillblock Filato, inverter Delta, axis drives Yaskawa, switches Euchner, sensors Balluff, rails and bearings HiWin, vacuum pumps EuroVac. All world leaders in their own right.
The software is NC Hops or DDX Easywood but the control is open to other software via post processor.
All models have devices fitted as standard which are normally optional on other manufacturer's machines. All machines are fitted with a Beckhoff Digital Drive System which means the machine only has to be referenced once, unlike other machines which have to be referenced after every switch on.
Lohmeyer are very competitively priced, boast a robust design coupled with absolute ease of operation and Prowood Finance is available (subject to acceptance) to make that new investment even more affordable.